Mexico Total Bliss Retreat
January 26th-February 2nd 2020
Join us on the idyllic beaches of Playa Troncones, Mexico, for a week of total bliss. Troncones is known for its healing energy, and has been attracting artists and creative people for generations.
Sitting secluded on a beachfront cove with gorgeous views in all directions, this amazing retreat offers something for everyone.
Swim in the infinity pool, sunbathe, walk the pristine beach that is just steps away, surf, snorkel, paddle board, check out local caves and hot springs, go horseback riding, or take a bike to town.
Enjoy access to included daily yoga, meditation, savasanassage, or pilates classes and traditional Mexican meals with farm-to-table locally grown produce.
Taste the flavors of this tropical paradise, from fresh fish and seafood, to locally grown, farm-to-table vegetables, fruits and meats. Vegetarian, Vegan, and Gluten Free options are available.
Daily Schedule Sample
The daily schedule is just an example, and is subject to change. The structure of the schedule is there for those that want it, but is a guide and not a rule.
We are here to support you while you have your best retreat, so take the parts you love, and skip the parts you don't.
Feel like skipping class and walking on the beach or exploring? Great. Can't bear the thought of missing a class, but otherwise just want to lay by the pool with a book for hours? Excellent. Us too. We got you.
• 7-8 AM Morning Vinyasa or Pilates on the Yoga Platform
• 8-8:15 AM Meditation
• 8:30-9:30 Breakfast is served
• 9:30-1 Free time- Swim, relax by the pool, walk the beach, etc. You do you.
• 1-2 Lunch is served
• 2-5 PM Free time - You do you
•5-6 PM Restorative Yoga or Savasanassage on the Yoga Platform
• 6-7 Free Time- Swim, relax by the pool, walk the beach, etc. You do you.
•7-8 Dinner is served
•8-10 Free Time

Accommodations and Rates
The Villa focuses on organic architecture, and consists of three spacious buildings, two with thatched roofs, created from palm fronds by local craftsmen mixing durability and artistry. The property has six (6) private rooms and six and a half bathrooms.
Three rooms have two double beds plus a sleeping sofa.
Three rooms have one deluxe king sized bed and AC.
All rooms have their own bathroom.
Deluxe Air-Conditioned King Suite: $2,350 for 1 person | $900 for each additional person
Single Bed in Triple Suite: $1775 per person
Sleeping Couch in Triple Suite: $1550 per person
A nonrefundable deposit of $500 is needed at the time of registration to hold your place.
All remaining balances must be paid in full by December 1st.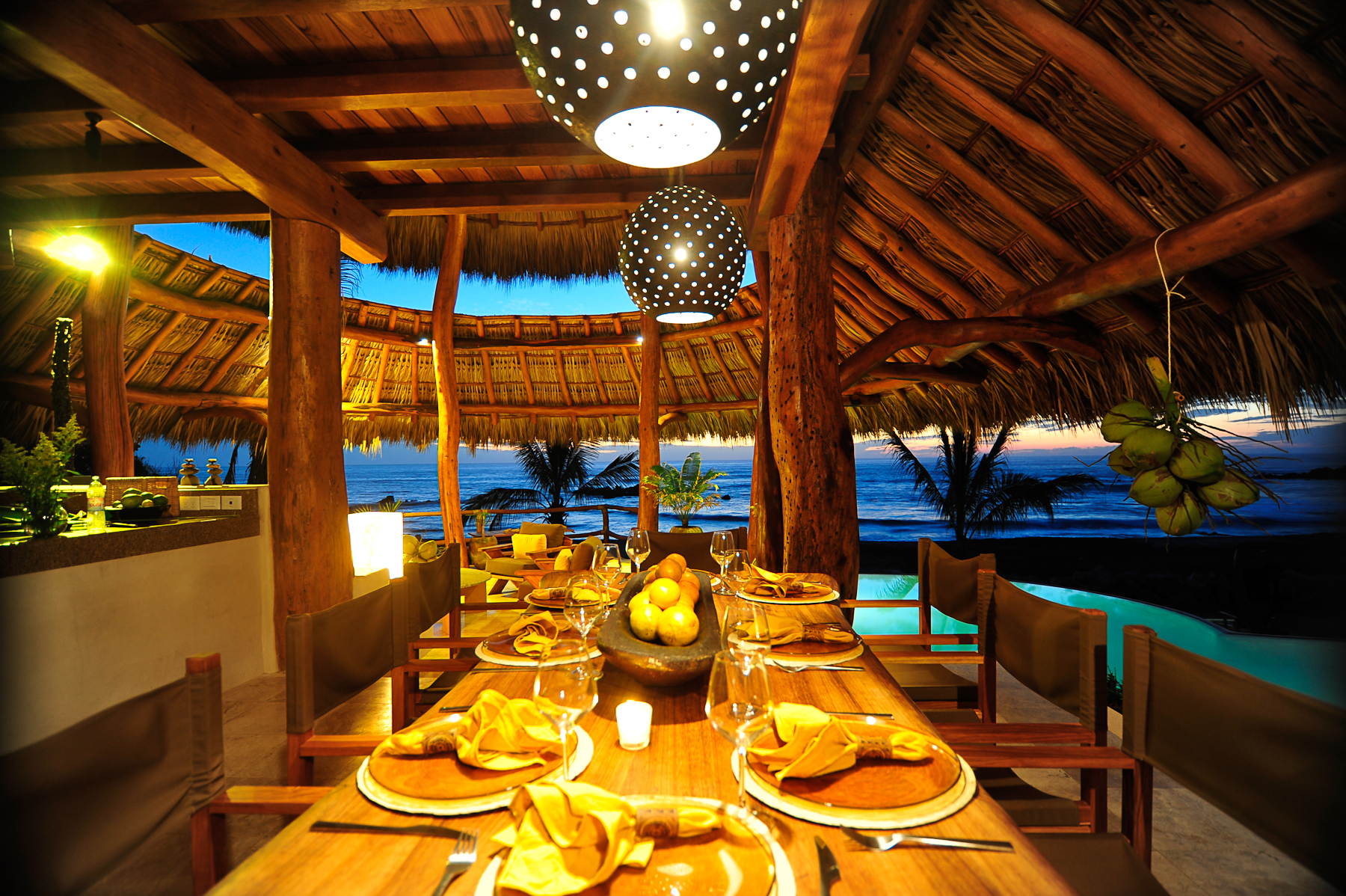 WHAT'S INCLUDED
• 7 nights accommodations
• 3 meals a day (vegetarian, vegan, and GF options available upon request)
• Daily yoga/meditation/pilates/or savasanassage
• Airport transfer
• Pool access
• Boogie Boards
Optional Add Ons
• Hot Springs and Cave Tour $60
• Kayaking Tour $50
• Cacao Ceremony $45
• Massage, Thai Massage, or Deep Dive
• Kayak Rental $40
• Surf Board Rental $20
Please let us know if you have any dietary restrictions upon registration.
Airfare is not included.
CANCELLATION POLICY
Deposit is nonrefundable. If you need to cancel your stay with us. we are able to offer a refund less 20%. Cancellations made within 30 days of your stay will be refunded less 40%.
Giving Back
On all of our retreats we try to include a fund-raising, karma class, or service work component. We are very excited to offer a day of service showing love for and walking rescue dogs at an organization near and dear to our hearts: Surfers For Strays. Surfers For Strays focuses on helping the large population of stray dogs in Troncones by providing neutering and spaying, veterinarian services, rescue and adoption services for them. Service work is on a voluntary basis and is optional for all retreat goers..